After talking online with one fellow Lolita who has just purchased some see through socks from me, I had the sudden motivation to blog again after looking at hers. Her blog is really pretty. Check out http://pastelcubes.blogspot.com.br/ by Luly Salle.
So where did I disappear to since my last post? Besides being busy from work, being preggy just meant that any extra time I had was spent on sleeping and resting. It started with lots of nausea during the first three months which I hugged the toilet bowl every evening, eventually nausea kinda became my friend. Gradually moving on to second trimester which I really enjoyed - weight of the tummy was still manageable, the good appetite coming back and still, I could fit into normal clothes. Third trimester was really an intensive training period - a prelude to the birth of the baby. It was a training for me to wake up in the middle of the night and my goodness! I didn't know my tummy could be this big. This whole 9 months really tested my endurance.
Nevertheless, being preggy did not mean that I will give up wearing lolita during this period of time. I still attended tea parties and gatherings with my friends and all the way to my 37th week. So in this post, I'm gonna show the lolita coordinates that I had during my 9 months. Sadly, I could not fit into any of my IW dresses though Innocent World is always my favourite Loli Burando. And my dresses are mostly from IW.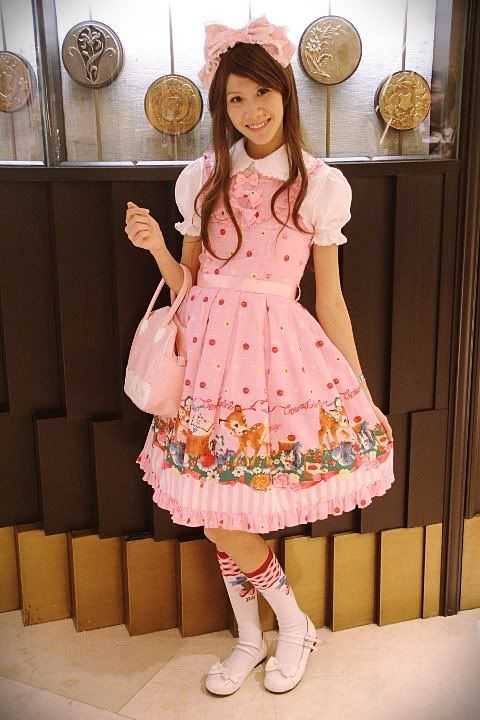 Taken at about 4 months preggy
It was a bit tight at the waist though after I had my lunch. But still, I love the fawn print.
This is my first Meta dress!
Headbow and Bag: Angelic Pretty
JSK: Metamorphose Crown Label
Taken at about 5 month preggy
I simply adore this print. I got it right away when it was under reservation on BTSSB website.
And it turned out pretty well with my IW blouse!
And I still could fit into it because it is not exactly tugged at the waist, but slightly above.
Headbow, JSK and socks: AATP Drosselmeyer Wonderbox
There aren't many Loli clothes I could fit in already at 6 months.
So I came up with a coordi with a loliable dress.
Headbow & wristcuffs: Innocent World
JSK: Dress bought from Modcloth
I managed to get my full Milky-chan the Fawn full set in brown!!!
I was looking for this OP in brown colorway for quite a long time. And I got it in full set!
And I could fit into it because of its high waisted cutting!
Headbow, Jsk, socks and bag: Angelic Pretty Milky-chan the Fawn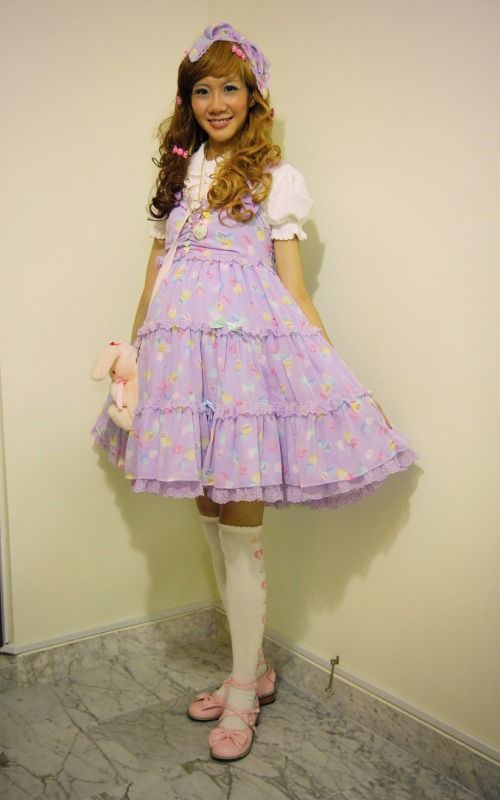 I was 7-8 months preggy and my tummy was really very obvious.
I could not fit into any of my lolita dresses anymore as I don't have many high waisted ones.
I borrowed this JSK from my friend, Kairei, and whoa! It fits like a glove, just that a little short due to my tummy.
But this JSK is really cute!
Headbow, JSK and necklace: Angelic Pretty Sugar Hearts
Blouse, Bag and Socks: BTSSB; Milky-chan bag and Judy Usakumya socks
My very last lolita outfit while waiting for my little gal to pop.
Dress was handmade by my seamstress; fabric was bought from my friend, Sakky. And the bows made by my best friend, Doreen.
Lace Bolero and Hair Accessory: Offbrand
Bag: Replica Liz Lisa Bag
Socks: Japanese see through socks
And of course, on 17 October, my gal was kind of ready and I reached the hospital at 1 pm. But my gal took her own sweet time and she was only out 14 hours later - 18 Oct 2012 at 3.09 am. The whole process of being in labour was really quite an experience. I didn't know that contractions could be sooooooooooooooooo painful!!! I only dilated 1.5 cm but the labour pains was already excruciating. I opted for epidural instead. Can't imagine going through the whole process without it. It was actually quite a relief when she was out. I was waddling wherever I went during the last few months. Now, the next phase of my life has begun. I could not wait for the day when I can do lolita twinning with my little princess.
This is my little princess, Siew Yu Yean Gwyneth.